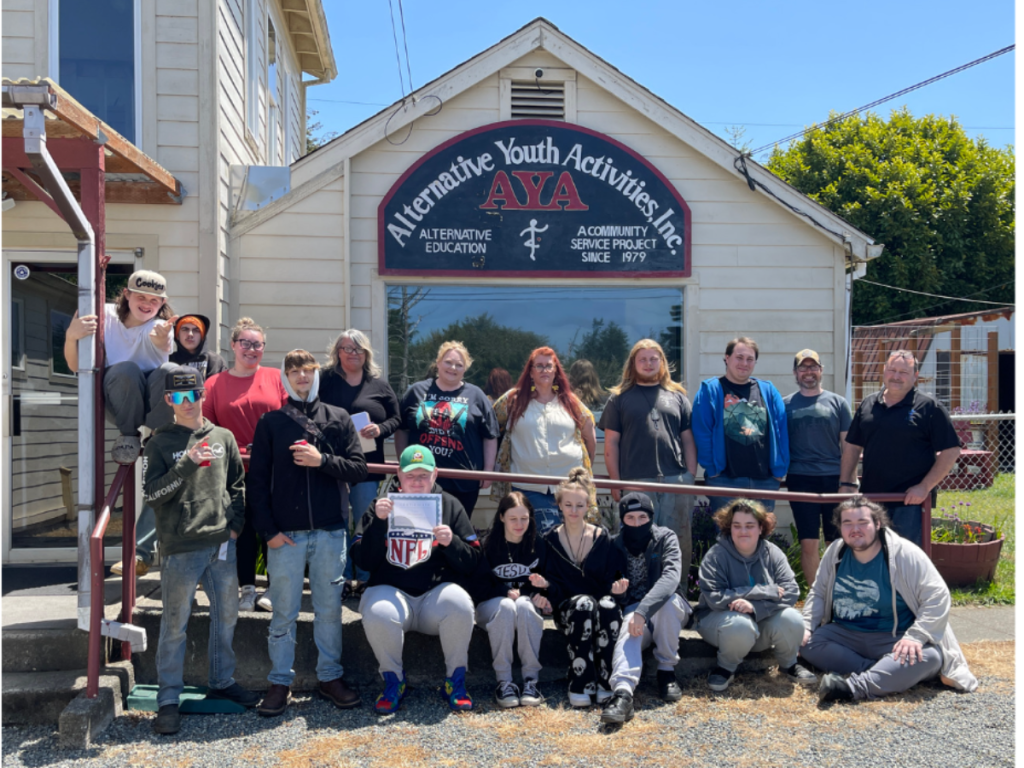 Our Mission
AYA provides a holistic approach to in-need youth by connecting them to education, career services, social support, and housing.
Our Vision
The school's foundation for success is embedded in its core values:
Passion
Compassion and caring for the young people served by the school is paramount.
Boundaries
Setting firm boundaries for behaviors and outlining expectations for students is basic to the organization's success. Assuring that boundaries are maintained and respected over time will assure that AYA is a safe place for all. Local mediation services are accessible and available as a realistic alternative to inevitable conflicts.
Community
AYA is an essential ingredient in the continuum of services becoming known as Coos County Nurturing Community. Student involvement in work experiences and volunteer work shine the light on the relevance of academic studies.
Education
Students seek out AYA for opportunities. They may need new options for learning, or their behavior may have been unacceptable in another setting. Students have self-selected out of the mainstream and AYA is offering a fresh slate. The curriculum exhibits tolerance and appreciation for alternative expressions and learning styles.
Respect
Self-respect, and respect for others including students, volunteers, teachers, and staff. Students will respect the environment and AYA facility, grounds and "the neighborhood". The organization is built upon and exemplifies respect in all aspects.
Innovation
AYA is open to programming that may be viewed as outside the box. These programs provide components that contribute to student goal attainment. Whether it's technology, gardening, mushroom culture, music therapy or worm cultivation – creativity is welcome.
Over more than 40 years, AYA established schools from Florence to Brookings with one mission: to provide a holistic approach to servicing youth by connecting them to education, career services, social support, and case management. Our team at AYA advocates for every student to dare to dream and then supports them to create S.M.A.R.T. goals to accomplish those dreams. While you may see many of the youth in our program with blue hair, multiple piercings, or tattoos, these are not requirements for admission. We welcome all youth to our program from students who didn't fit into the public education box to homeschoolers in need of more structure to those whose behavior may have been unacceptable in a different setting.
Alternative Youth Activities relies on a network of staff, teachers, and volunteers to continue our mission. Our dedicated, highly qualified teachers help us blend high-tech and hands-on learning. With an average teacher/student ratio of 1:15, we excel in individualized instruction. We use blended learning; combining computerized lessons with a brick-and-mortar location allows us to offer each student exactly the learning experience they need. Our use of cooperative learning brings many scientific concepts within the reach of at-risk students. We also offer tutoring and an expanded elective curriculum.
One of our proudest accomplishments is our credit recovery successes. Eighty percent of our students attend for a term or two and return to their original school. We help our students navigate the complexities of the Oregon High School Diploma. Without our alternative options, many of our students are never able to have the high school graduation experience, but this year we hosted our own AYA graduation, including students who earned both their GED and their high school diploma.
For our youth, we offer a variety of paths to a career. From local environmental internships to college credits to our workforce program, every student will find the path fit for them. Even Americorps regularly presents to our student population. We also work with local organizations to offer apprenticeship programs. Even at AYA, we have an aquaponics system that the students regularly work with to learn about water quality and environmental stewardship. Thanks to Southwestern Oregon Community College, we help at-risk students to accrue college credits prior to graduation which helps them qualify for scholarships and financial aid, like the Pell Grants.